IT Services for Law Firms
Attention Law Firm Administrators and Partners:
Are you tired of dealing with computer guys that don't pick up their phone when you call, push your service calls to the next day, and can't seem to keep your network running smoothly? Are you looking for a IT company that speaks your language and specializes in serving law firms?
If so, give us a call at 203-431-9300 and let us show you how fast, friendly, and highly responsive IT services should be delivered to your business.

We are a member of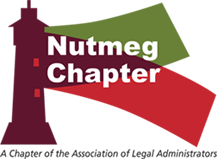 Fairfield and Westchester County Area Legal IT Support
We understand that your staff's time and your firm's resources are valuable. That's why you'll want to entrust your IT network to the experts at NECG.
Your staff and associates should be able to focus on their work - not the technology that makes it possible. NECG takes care of your technology infrastructure so you can concentrate on growing your practice.
We'll help you by:
Providing peace of mind that your calendars, contacts and deadlines are up to date and available from anywhere at anytime from any device.
Allowing you to capture all billable time easily.
Improving communication methods so you can respond quickly to client inquiries about their matters.
Setting up paperless systems for speedy searches of your important documents and email.
Allowing you to track the profitability of your practice.
Providing Email Archiving, Encryption, and eDiscovery.
Ensuring software is properly integrated for maximum speed and reliability.
Protecting your electronic resources.
Maintaining your network so you can concentrate on your practice.
Providing affordable, efficient solutions to meet your technology needs, ultimately increasing the productivity of your firm.
NECG will support your firm's critical applications:
Practice and case management software
Amicus Attorney
Sage TimeSlips
DOCs Open from OpenText
Tabs3 Billing Software
Worldox
LexisNexis PCLaw
LexisNexis Time Matters
Westlaw Products, including Westlaw CaseLogistix
eDiscovery and trial presentation applications
E-mail archiving, eDiscovery and compliance software
ProLaw
Complete this form for more information on our IT Services for Law Firms.
Complete the form below to gain access to this FREE report entitled, "What Every Firm Administrator or Partner Must Know About Hiring An Honest, Competent, Responsive And Fairly Priced Computer Consultant"
An integral part of our team...
We are a busy real estate firm with two locations and a large, diverse group of agents who MUST have access to our systems 24/7, from anywhere and from a variety of equipment ranging from Windows PCs to Macs to smartphones. NECG provides fast, expert and professional support so we can give the same to our clients. They are the best at what they do and we are very glad they are part of our team!
Shaylene Neumann, Partner Neumann Real Estate Christie's Great Estates
Understanding your business
We have been working with Frank Ballatore and NECG for nearly ten years now. Among the many factors that have contributed to this successful relationship is the fact that NECG takes the time to understand your business needs first before recommending the technology solutions. This results in positive advances at an affordable price. We highly recommend the use of NECG for any and all of your technology solutions.
Laurence J. Hope, President Cardinal Mortgage Corp.