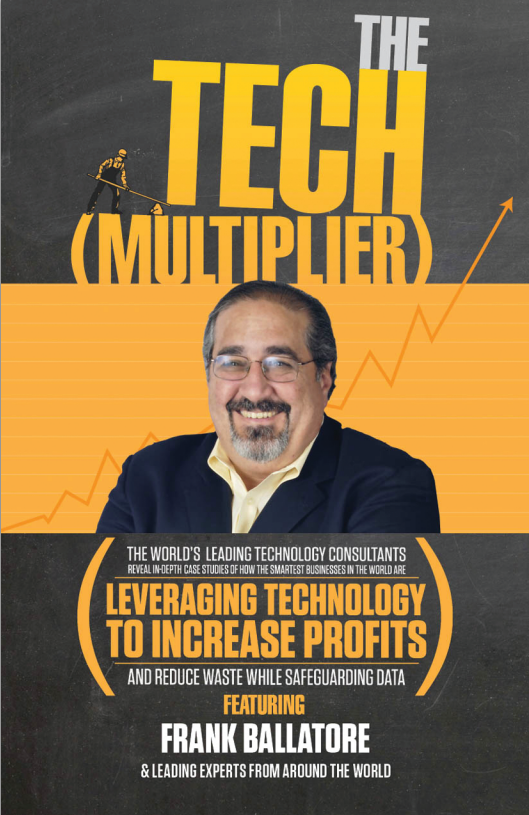 Free e-Book:
"The Tech Multiplier"
When the opportunity presented itself to write a book, I, together with several of the world's leading technology consultants, jumped at the chance. The Tech Multiplier features contributed chapters from fourteen other technology entrepreneurs that I have a tremendous amount of respect for. Together, we collectively service thousands of small business across the United States of America and Canada. These small businesses cross nearly all industries and range from start-up size to very mature companies with hundreds and in some cases, thousands of computer users.
Together with industry colleagues Robin Robins, MJ Shoer, Bill Ooms, Jeff Brodie, Chris Wiser, Jennifer Bleam, Dan Donathan, John Motazedi, Linda Lynch, Dan Izydorek, Diana Spurgus, Fred Reck, Peter Verlezza and Jeanmarie Richardson, we have published The Tech Multiplier working with publisher Celebrity Press of Winter Park, Florida. The book was released on January 24, 2013 on Amazon.com and is available in hard cover and Kindle formats. The Tech Multiplier will also be available at Barnes & Noble. At $19.95, it's a bargain! There are literally tens, if not hundreds of thousands of dollars of experience within the pages of this book.
Just look at this information rich Table of Contents:
Chapter 1 ………. Align Your Network With Your Goals
Chapter 2 ………. Are Your IT Needs Being Adequately Served?
Chapter 3 ………. Customer Service Makes All The Difference
Chapter 4 ………. Using Technology to Manufacture Time and Print Money
Chapter 5 ………. Pros and Cons Of Moving To The Cloud
Chapter 6 ………. It's Cloudy Enough Without All The Fog
Chapter 7 ………. How Good Is Your IT Support?
Chapter 8 ………. Technology & Disaster Recovery Preparedness
Chapter 9 ………. Outsourcing: The Key To Small Business Survival In A Darwinian World
Chapter 10 ………. How To Make Sure Your Computer Consultant Is An Asset To Your Company And Not A Liability!
Chapter 11 ………. The SMB Checklist
Chapter 12 ………. Using Integrated Technology To Enhance Your Business
Chapter 13 ………. Recovery, There's An App For That!
Chapter 14 ………. Cloud Nine: Elevating Your Business To The Cloud Frontier
We are living in a world where the ancient concept of "only change is constant" still rules – perhaps nowhere is this more important than in the world of computers.
Add to this the necessity to keep our businesses functioning at an efficient level of productivity, and you have a major requirement for computer expertise on demand. In fact, hiring the wrong computer expert or consultant in business, however well intended, can easily spell disaster.
That's why I wish to share this book with you. Along with my colleagues, we have specific areas of knowledge and expertise we have used to analyze situations and advise our clients. We have extensive proven experience and education in integrating, implementing and changing systems. We discuss how to blend operators, equipment and systems, as well as explore disaster recovery systems and the "Cloud."
Choosing a consultant becomes a decision that relies on that person or group to quickly, accurately and competently manage system implementation or change. We have the expertise and experience that can guide you. We want to share this knowledge with you. That's what we're here for.
Please send me your feedback as I look forward to hearing from you.
Enjoy,
Frank
Complete This Form and Receive This Free E-Book:
The Tech Multiplier
Important! We hate spam as much (or more!) than you and promise to NEVER rent, share, or abuse your e-mail address and contact information in any way.